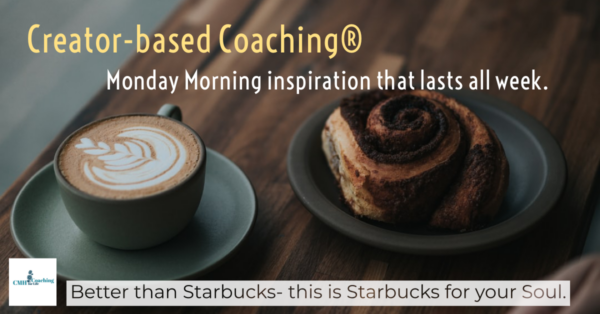 I heard you have an interest in our Creator-based Coaching® Facebook Group.  I'd love to help! The CBC® Facebook group has been created to support and train our clients in creating their one, awesome, amazing, perfect life.  We teach principles and personal application of self-coaching skills within the framework of the Creator-based Coaching® model. 
 You might call our little CBC® Coaching group a 'Self-coaching Sisterhood'.  Within the community we keep confidences, nurture a safe space and love one another.  We are all self-coaching learners.  We learn together, listen to one another and support each other.
 There's Beth, our Master Life Coach, Jenn and Aubrey, our CBC® Coaches in training, and a couple of good friend conversation starters that we can lean on as well.  If ever there is a question, there is plenty of help to be had.  It's simple to sandwich it into a busy life- the Facebook Page is open 24 hours a day, 7 days a week!
 The tenets of Creator-based Coaching® are covered in 12 modules throughout the year.  It doesn't matter when you join- we just keep repeating them.  Hop on any time.  Each week Beth posts a Monday Morning Inspiration.  It's right up there with a warm cup of Starbucks- invigorating and delightful.   A document is available with more activities and information to use during the week.  Then, all week long the group will discuss, apply the concept and practice, loving and supporting along the way.
Once in awhile Beth does a Q&A session live on the page and everyone gets to chat.  It's a huge help.  Really, our Self-coaching sisterhood is a wonderful place to learn more about creating your one, awesome, amazing, perfect life.  You'll  have friends to bounce ideas off of and a soft shoulder to land on if you need it.
 It's great how little it costs, as well.  For less than the price of a cup of coffee a day, you get Invigorating inspiration that lasts all week long.  Subscriptions are simple and renew automatically each quarter.  It's fabulous to have a master life coach on call, instructing, supporting and inspiring all the way.
Won't you join us?
"Beth never ceases to amaze me. She is a very busy woman and you would never know it because Beth gives you her undivided attention every time. She is enthusiastic, upbeat and positive, pure sunshine. Beth is patient and actively listens, and she is a reservoir of knowledge. Beth has helped me in so many ways, and for her I am forever grateful."
​​"I know Beth doesn't use a rating system, but if she did, I'd give her ALL THE STARS! Each time I talk with Beth I feel uplifted in my spirit, confident with my actions, plus, I always learn something new. Beth has helped me boost the immunity for me and my family, release trapped emotions, and even replace negative thought 'ruts' with new, positive messages. She's wonderful, give her a call!"

"Beth has been an answer to my prayers! She has given light to me in darkness and I have found a true friend. I am so grateful for her spiritual insights and I am enjoying her lovingly walking me through AFT to help me develop my strength. I could not say enough nice things about her! Give her a call and see what you think!"

"I have been working with Beth for several years and I always come away feeling better after each session. She has helped me heal from both emotional and physical issues. She is very intuitive and gifted and I have been blessed and have benefited because of her gifts."
* Please understand that we do not diagnose or treat disease. You would want to consult your personal licensed health practitioner for any health concerns in that area. CMH Coaching4Life acts strictly in an educational role with all clients.